Overview
This time we are given the opportunity to take a look at The Gold And Oil Guy ETF and Stock Trading Alert Service run by Chris Vermeulen. I especially like to review trading services to find if there are still hidden gems to be found which you as a reader can benefit from either to become a better trader or to profit even more while being a member of such a service.
The question as always is: 'Can Chris Vermeulen and his service be added to our collection of experts?'. Maybe you ask: 'Why are there only a few reviews on your website?'. That is because we only put reviews on our site of services that we like.
First something about this service and Chris Vermeulen. After that I will go into his service. Because I want to look into his service for a longer time this review will be in a few parts.
For the next few parts I copied some text of the website to give you some idea what the service is and who is behind this service.
What is TheGoldAndOilGuy ETF and Stock Trading Service?  (source)
This is a comprehensive "look over my shoulder" recommendation service, meaning you get to know the trades I'm actually trading. While placing such trades, I also walk subscribers through the entire process from entry to the eventual exit, keeping things as simple as possible for even the more novice traders. If you have a question, no problem- send me an email and can quickly address any of your trading questions.
I have been actively fine tuning my trading strategy year after year improving the timing, entry and exit points as the market evolves. I trade two different trading strategies depending on the market conditions. During a trending market I focus more on swing trading for big gains of 3-50%. But during volatile times my goal is to play short term overbought and oversold market sentiment levels grabbing 1-2% here and there. This is what makes my trading strategy unique and profitable over the long run, not to mention Extremely Accurate. I consider this service a complete trading experience from education to money management, to profitable trades.
Several big plays should unfold in in 2011 and 2012 and I am looking at the SP500, DOW, Precious Metals, Oil, US Dollar, Bonds and Emerging Markets. I also cover sector ETFs when opportunities present themselves.
As a subscriber you will learn to understand the market and how manage positions. My proven trading strategy becomes very CLEAR and SIMPLE to execute. The daily pre-market videos and daily updates are there to help the more aggressive trader take advantage of smaller moves on their own, while providing education to novice traders. This constant support eliminates your emotions making trading a fun experience.
It is led by Chris Vermeulen (source)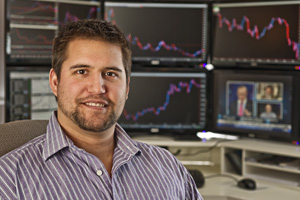 Chris Vermeulen is the founder of TheGoldAndOilGuy newsletter. He provides you with an ETF and Stock Trading Alert Service complete with daily pre-market videos, intraday chart analysis, and low risk etf trade signals. His strategy is unique because it provides low risk entry points through the use of crowd psychology, volume analysis, market sentiment and chart patterns, eliminating most of the downside risk before taking a position.
You may learn more at: http://www.thegoldandoilguy.com
Trading Strategies
Chris will use one of the following Trading Strategies:
Low Risk Swing Trading Strategy:
Short-term swing trading (trade length 5-60 days) allows my members to take advantage of very large price movements in the market by trading with the trend. These short term trends are too small for most fund managers to take advantage of and, at the same time, too lengthy for day traders. This time frame offers exciting opportunities for those who can take advantage of them like us!
High Probability Momentum Trading Strategy:
Identifies short term bottoms or tops while providing the best risk/reward scenarios during a sideways or choppy market conditions. Recognizing the current market trend whether it is up, down or sideways is crucial to a trader's success and part of what I do within this service.
Using key support and resistance levels along with extreme short term market sentiment readings plays a critical roll in identifying short-term pivot points lasting 1-5 days. This allows my members to quickly take advantage of high probability opportunities on a regular basis.
TheGoldAndOilGuy member website
Let us take a look at the site that members get access to if they subscribe to the TheGoldAndOilGuy service. This screen is what you will see after you login:
I will go over the menu items from his service and tell you some more about each of them:
Home
Here you can find what you pay for as a member:
Market Commentary
Positions to buy or sell (trade alert)
What I like about the service is that you get emails about what is going on in the markets (Market Commentary) or when there is a trade alert (to buy or sell). The email is a quick read so you are always informed about what is going on.
Market Commentary
Almost every day you get info about the markets and sometimes several times a day.
Sometimes one or more charts are included in the email and when you login you also get a nice video (most of the time) were Chris guides you through a few charts about the S&P500, Dollar, Dow Jones, Silver, Gold, Oil and so on and he gives you his vision of the markets.
Here you can see an example of a short points about the market together with a video that is included:
First of all these are very educational with lots of information on how Chris Vermeulen analyzes the charts and his insight in the markets.
Second, you get the information what Chris is up to: is he waiting for a good setup for a trade and which setup. When he alerts his subscriber on a trade he takes, you probably already heard it in one of his videos.
Also the few lines of text above the video that gives the subscriber a clear view of what happened, is happening or might happen in the markets. Just a quick read to get you up to speed.
Positions
When there is a position to buy, sell, add to a position, take profits and so on you can read about it on the website or email.
The following is an example of a trade alert
ETF TRADE DETAILS: Buy Dollar
US Traders: Buy UUP below $22.90
Protective Stop: $22.40 (3% Downside Risk)
Canadian Traders: Buy HDU below $17.00
Protective Stop: $16.50 ( 3% Downside Risk)
Chris tries to keep the downside as little as possible.
Real-Time charting
The following charts provided by Freestockcharts.com are shown:
SPDRs S&p 500 Trust series ETF
CBOE Put Call Volume ratio
NYSE advance decline
Portfolio
Under Portfolio, the open or closed positions are shown.
As you can see it is nicely done, every position has its own line with all the necessary info.
| | |
| --- | --- |
| Status | Open or closed trade |
| Date | When was the trade alert given |
| Symbol | Which ticker to look for. I see that Yahoo ticker symbols are used. This symbol is not linked to the Yahoo site. Maybe a new feature? |
| Position & size | How much is advised to buy of a certain stock, ETF. For example 1/4 of a normal position size. |
| Entry price | What was the entry price? |
| Protective stop | If there is a stop it is mentioned here. Most of the time there is a stop mentioned. |
| Partial Profit taking | If you should take a partial profit and when. |
| Profit/(Loss) | How much % profit or (loss) is made. |
Trading Education
Please visit this page first to get you up to speed as a new member. You will see the following the following screen:
You can take a look at the Membership 4-Min Video Tour: Watch Video
Everybody can always learn more about trading so I urge you to read all of the pdf's and look at the video about the candlesticks. There is probably some or maybe a lot of info that might be beneficial for you as a trader. A lot of the rules that we as Tradersbonanza.com use in our trading are included in the pdf's so a must read for you all.
Trading Calendar
Here you can find a list of the US trading holidays.
Contact me
Here you can find the email to get in touch with Chris Vermeulen.
My Account
You have to following options:
A list of your subscriptions (you can have more than one)
Change Password/Edit Profile
Current subscriptions
Add/Renew Subscription
Faq
Logout
Logout
Just what the title says.
And now?
This is just the first part to give you an overall idea of what to expect as a member of The Gold And Oil Guy ETF and Stock Trading Alert Service. The real question for us traders is: 'Can I benefit from this service in my day to day trading adventure?'. Since we want to be thorough we want to follow a service for several months to get a good impression. I will write a second part about this so please come back later.
In part two you can expect that we will use our article Choosing a Trading Subscription Service to evaluate this service.
The Gold And Oil Guy ETF and Stock Trading Service Review